At Shiloh we have been able to reserve the last batch of Surface Pro 4's before they became end of line at the end of last yet. The newly released Surface Pro 5 is nearly the same specification but costs over £200 more without the Type keyboard featured in this bundle.
These fantastic machines have a great spec and are super portable with the ability to be used as a laptop or a tablet.
This Surface Pro 4 Bundle SPECIAL OFFER features the number 1 accessory that you need for the Surface Pro 4, The Type Keyboard. As standard the Surface Pro 4 comes with a touch keyboard that is not as user friendly or easy to use. The Type keyboard gives your that exact keyboard feel and familiar use that you get from using a normal keyboard.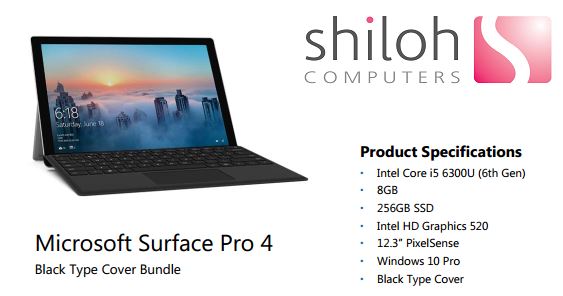 Please see the PDF below for a detailed description.
Microsoft Surface Pro 4 Bundle Offer
Call us TODAY to order you Surface Pro 4 before the stock is gone!!! – 01902 504710